Practical and Basic Knowledge of Civil Engineering:
As civil engineers, it is our job to plan, construct, and maintain the infrastructure that allows our communities to function. We work on everything, including water treatment facilities, airports, roads, and bridges. Every site engineer should be familiar with a certain set of fundamental concepts, Civil Engineering Basic Knowledge and Practical construction knowledge to succeed in this industry.
Get started with the fundamentals of civil engineering basics and practical. This blog post provides an overview of the essential concepts, principles, and applications that form the backbone of the discipline. Learn about structures, materials, surveying, and about the Basic Knowledge of Civil Engineering in this comprehensive guide.
---
Civil Engineer Practical Knowledge
As a Civil Engineer, there is some fundamental practical knowledge that you should be aware of. Let's go through each one of them to ensure that you have a clear understanding:
The

weight

of a first-class brick should not be less than

3.85 kg

.
The

first-class brick's tensile strength

shouldn't be less than 3000 lbs/per square inch.
A hook should have a minimum length of 9D.

Water

should not make up more than 1/5 or 1/6 of the weight of a first-class brick.
A common building height should be 315 centimeters tall.
The riser should typically be 15 centimeters tall.
The recommended lintel thickness is 15 centimeters.
The FM limit for normal and local sand should be 0.5 to 0.8.
The recommended window height is 120 centimeters.
The DBC should have a minimum thickness of 2.5 centimeters.
so, above is the basic Civil Engineer Practical Knowledge.
---
Basic Knowledge of Civil Engineering in Building Construction
Aspiring builders and architects must have a clear understanding of building construction principles to ensure that their projects meet safety standards and are structurally sound. Here are some important factors to consider:
The cantilever anchorage length for the main steel should be at least 69 times the diameter of the bar (69D).
The bend length for a column should be a minimum of 300mm.
For chairs, the minimum diameter of the bar should be 12mm.
The minimum diameter of a dowel bar should also be 12mm.
Lapping lengths should not be used for bars larger than 36mm.
For square columns, a minimum of 4 bars is required, and for circular columns, a minimum of 6 bars is required.
The amount of longitudinal reinforcement should not be less than 0.8% or more than 6% of the gross cross-section.
The main bar in a slab should not be less than 8mm (if it is HYSD) or 10mm (if it is a plain bar), and the distribution bar should not be less than 8mm and not more than 1/8 of the slab's thickness.
All reinforcement must be free from mill scales, loose rust, courts of paint or oil, and any other substances.
---
Site Engineer Basic Knowledge of Construction Site
As a construction professional or site engineer, it is important to have a basic knowledge of the terminologies and standards used in the industry. Here are some key points to remember:
Dead Load refers to the weight of a structure itself, without any external forces acting upon it.
Damp Proof Course (DPC) is a layer of waterproof material, usually at least 2.5cm thick, that is placed between a building's foundation and the first layer of bricks or blocks to prevent moisture from entering the structure.
Sand with a moisture content greater than 5% is not suitable for use in the concrete mix, as it can adversely affect the quality and strength of the final product.
The curing period for Reinforced Cement Concrete (RCC) is 28 days, which is the amount of time needed for the concrete to gain sufficient strength and durability.
Ties are the transverse reinforcements provided in columns to help resist lateral forces, while stirrups are the transverse reinforcements provided in beams to help resist shear forces.
In beams, stirrups are provided to prevent the longitudinal bars from buckling and to help resist shear forces.
The purpose of providing ties in columns and stirrups in beams is to handle the shear force and keep the longitudinal bars in position.
M20 grade of concrete is commonly used in the construction of slabs, which is a mix of cement, sand, and coarse aggregates in the ratio of 1:1.5:3.
The minimum length of the hook provided at the end of a reinforcing bar should be 9 times the diameter of the bar (9D).
The unit weight of Plain Cement Concrete (PCC) is 24 KN/m², while that of RCC is 25 KN/m². The unit weight of steel is 7850 Kg/m².
Cement that is more than 3 months old is not recommended for use in construction, as it may have lost its strength and could adversely affect the quality of the final product.
The standard size of a brick is 19cm x 9cm x 4cm, and it is commonly used as a building material.
---
Basic Building Planning: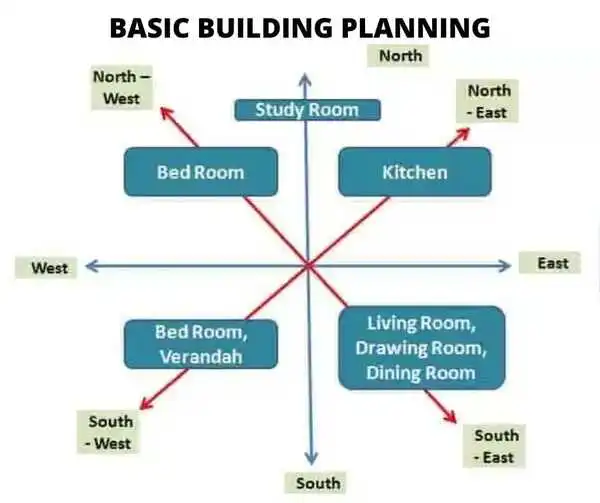 ---
Civil Engineering Basics – Useful Tips for Civil Engineers
Lapping of bars (Reinforcement)
Diameter of the bar (Reinforcement) is less than

36mm

. 
Circular RCC Column
Use Minimum of 6 longitudinal reinforcement bars
Thickness of the slab should
should be Minimum is 0.125m
PH value of water
should be More than 6 should be used for building purposes.
The

compressive strength of Bricks

should
should be 3.5 N /mm2
Dead Load of structure
Self-weight of Structure (like Slab, beam-column, etc)
Moisture content and
Sand that have more than 5% must not be used for Concrete mix.
DPC (Damp Proof Course)
Thickness should not be less than 2.5cm
RMC (Ready Mix concrete)
This type of concrete is made at a factory and transported to the site, making it ideal for construction sites with limited space or large amounts of concrete needed.
Height of floor
The standard height for a floor is

3m or 10ft

.
Cantilever beam
This type of beam have one end fixed support and the other end is free.
Simply supported beam
A minimum of two supports are needed
PCC
This type of concrete is used when no tensile forces are acting on the member.
Weight of first-class clay brick and crushing strength
3.85 Kg and 10.5 MN/m2
Impermeability of concrete
It is concrete that resists the entry of water or moisture into it.
Curing Time of RCC
28 days
Minimum Sill Level height
44 inches
Thermal expansion co-efficient of concrete and steel
The thermal expansion coefficient of concrete and steel is 12×10−6/°C.
Number of Bricks necessary for 1m3 of Brick masonry
550 bricks
Specific gravity of cement
The specific gravity of brick Specific gravity of sand
3.16g/cm3

2g/cm3

2g/cm3

Unit weight of PCC

Unit weight of RCC

Unit Weight of STEEL

24KN/m3

25 KN/m3

7850Kg/m3

Volume of 50 kg cement bag

1.3 cft

TMT bars
Thermo Mechanically treated bars
Length of each bar from factory
12m
---
Percentage of Waste Factor in Different Building Materials: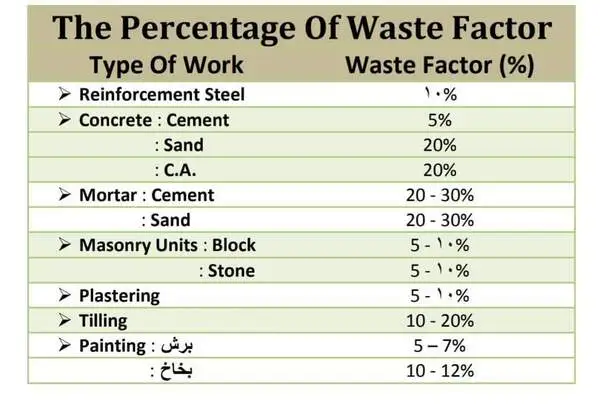 ---
Construction Materials
Cement: Cement is produced by crushing limestone and clay gravel. It acts as a binder, facilitating the cohesion of cement, sand, and water. There are several important types of cement.
Aggregate: There are two main types of aggregate:
Fine Aggregate

: Fine aggregate consists of materials that pass through a 4.75 mm sieve and are retained on a 0.075 mm sieve. An example of fine aggregate is sand.

Coarse Aggregate

: Coarse aggregate is the material that is retained on a 4.75 mm sieve. Gravel is an example of coarse aggregate.
Concrete: Concrete is formed by combining cement, aggregate, and water according to a specific mix. The water-to-cement ratio plays a crucial role in determining the strength of the concrete, with a higher ratio resulting in weaker concrete.
The strength of concrete is indicated by a term such as M-25, where "M" stands for mix and "25" represents the compression strength at 28 days, measured using concrete cubes of 15 cm on each side.
Concrete has two types of setting:
Initial Setting Time

: The initial setting time is approximately 30 minutes, during which the concrete begins to solidify.

Final Setting Time

: The final setting time is around 10 hours, marking the completion of the concrete's setting process.
The setting time of concrete is determined using a Vicat apparatus.
With the aid of admixtures, concrete setting time can be modified based on environmental factors. Retarders and accelerators are terms used to describe mixtures that affect how quickly the setting time passes.
---
Components of Building: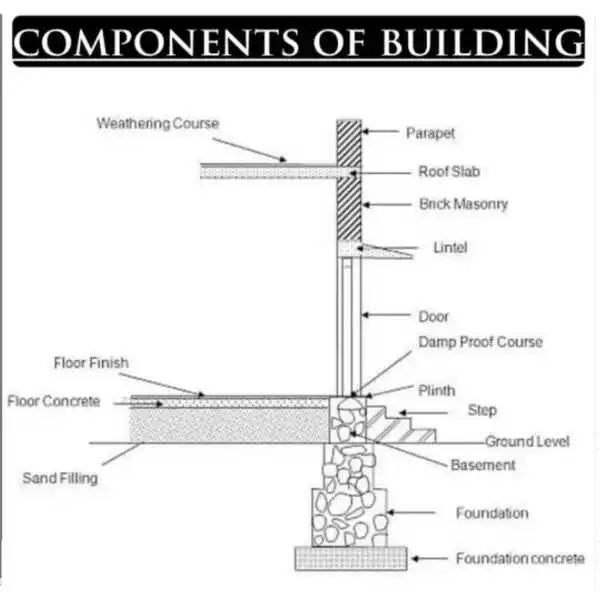 ---
Minimum Design Requirements for Staircase Construction:
Staircase construction is an important aspect of building design and requires careful consideration to ensure safety and functionality. Here are the minimum design requirements for staircase construction:
Headroom: There should be a minimum of 2 meters of headroom above each tread and beneath the landing.
Stair width: The staircase should have a minimum clear width of 900mm.
Handrails: There must be handrails on both sides of the staircase, and they must be between 900 and 1100 millimeters above the tread.
Riser: The rise in stairs, which is the height between two consecutive steps, should be between 150mm to 200mm.
Tread: The tread in the staircase, which is the horizontal depth of each step, should be between 250mm to 300mm.
Slope or Pitch: The slope or pitch of the staircase should be between 25 degrees to 40 degrees.
Balustrades: Guardrails or balustrades must be installed along the open sides of the staircase, and they must be at least 900mm in height.
Lighting: The staircase and landings should have sufficient lighting, with switches placed at the top and bottom of the staircase.
Non-Slip Surface: Each tread should have a non-slip surface to reduce the risk of accidents.
Structural Support: The staircase must be built to offer sufficient structural strength for the intended load and use.

Fire Safety: Staircases must be built by all applicable fire safety regulations, including the provision of materials that are fire-resistant and a suitable means of escape.
---
Thumb Rule for Manpower Productivity Estimation: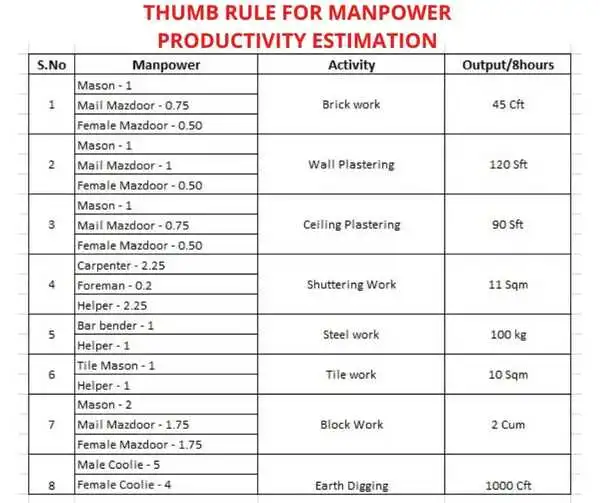 ---
Strengthening Techniques for RC Columns: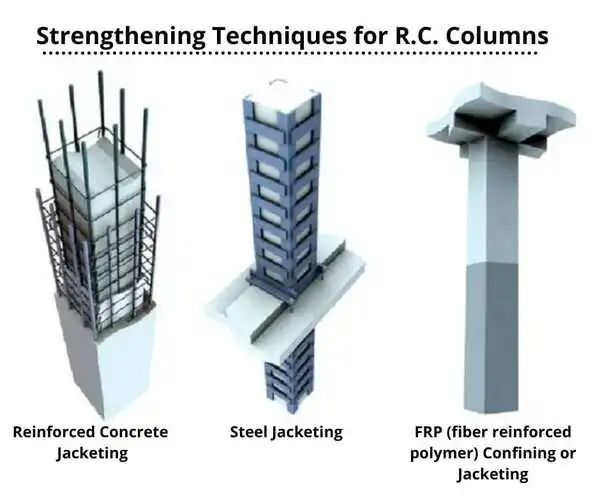 ---
Concrete Slump Value for Various Concrete Constructions
| | |
| --- | --- |
| Concrete Mixes | Slump range in mm |
| Columns and Retaining walls | 75-150 mm |
| Beams and Slabs | 50-100 mm |
| Cement Concrete Pavements | 20-30 mm |
| Decks of Bridge | 30-75 mm |
| Vibrated Concrete | 12-25 mm |
| Huge Mass constructions | 25-50 mm |
---
Grades of Concrete:
| | |
| --- | --- |
| Grades of Concrete | Proportion |
| M-5 | 1:5:10 |
| M-7.5 | 1:4:8 |
| M-10 | 1:3:6 |
| M-15 | 1:2:4 |
| M-20 | 1:1.5:3 |
| M-25 | 1:1:2 |
---
Clear Cover to Main Reinforcement:
| | |
| --- | --- |
| RCC Footing | 50 mm |
| Top Raft Foundation | 50 mm |
| Bottom/ Sides Raft Foundation | 75 mm |
| Strap RCC Beam | 50 mm |
| Grade Slab | 20 mm |
| RCC Column | 40 mm |
| Shear Wall | 25 mm |
| RCC Beam | 25 mm |
| Slab | 15 mm |
| Flat Slab | 20 mm |
| Stair-case | 15 mm |
| Retaining Wall | 20 – 25 mm |
| Water Retaining Structures | 20 – 30 mm |
---
Unit Weight of Different Building Materials
| | |
| --- | --- |
| Concrete | 25 kN/m3 |
| Brick | 19 kN/m3 |
| Steel | 7850 Kg/m3 |
| Water | 1000 Lt/m3 |
| Cement | 1440 Kg/m3 |
---
| | |
| --- | --- |
| In Compression | 38 diameter |
| In Tension | 47 and 60 diameter |
---
Concrete Mixes and Purpose: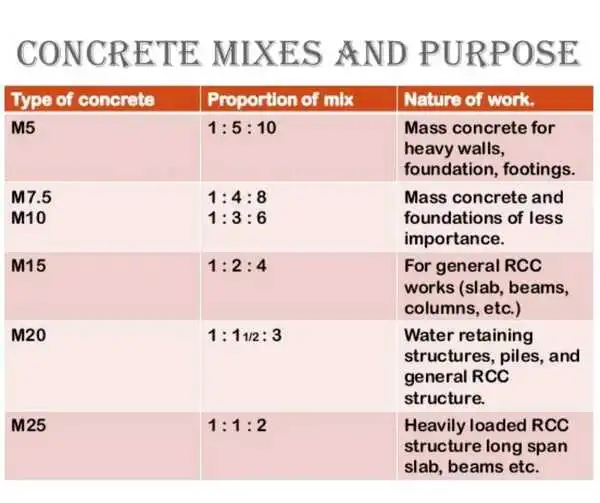 ---
Enlist below are various techniques used for the curing of concrete:
spraying
ponding
steam curing
wet covering
curing chemicals
---
Different Types of Columns: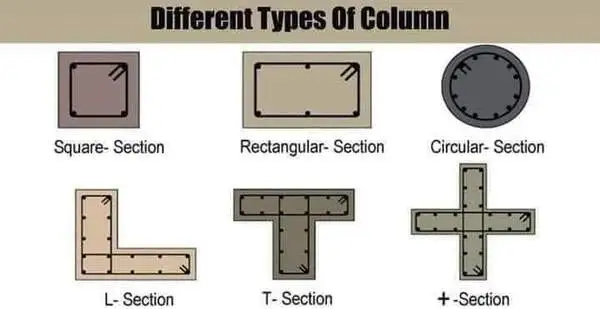 ---
Cube Samples for Different Quantity of Concrete Volume:
Using cube samples that accurately reflect the concrete's volume is essential when evaluating the compressive strength of the material. The quantity of cube samples needed to ensure accurate measurements varies depending on the amount of concrete being tested. The suggested cube sample sizes for various concrete volumes are listed below:
| | | |
| --- | --- | --- |
| S. No | Volume of Concrete | Number of samples |
| 1 | from 1 to 5 m3 | 1 sample |
| 2 | from 6 to 15 m3 | 2 samples |
| 3 | from 16 to 30 m3 | 3 samples |
| 4 | from 30 to 50 m3 | 4 samples |
| 5 |  50 plus or above 50 m3 | 5 samples |
---
Weight of Steel Bar per M/Kg:
The weight of the steel (reinforcement) bar in meters per kilogram is given in the table below:
| | | |
| --- | --- | --- |
| S. No | Dia of the bar in (mm) | Weight of steel in Kg per meter |
| 1 | 6 | 0.22 |
| 2 | 8 | 0.39 |
| 3 | 10 | 0.61 |
| 4 | 12 | 0.88 |
| 5 | 16 | 1.57 |
| 6 | 20 | 2.46 |
| 7 | 25 | 3.85 |
| 8 | 32 | 6.31 |
|    9 |                 40 |                       9.86 |
Note:
The formula is used in this table is D2/162.162 in Kg/m. this formula is used when the dia of bar (reinforcement) is in mm and the length of the bar is in meters.
---
Removal of Formwork or De-Shuttering Time:
There are different members of formwork such as foundation, column, beam and slabs, etc. after poring of concrete the shuttering should be removed after some time the time of de shuttering is given below:
| | | |
| --- | --- | --- |
| S. No | Members of structure | Days |
| 1 | for Sides of foundation, beam, columns and walls | 2 days |
| 2 | for Sides of slab under 4.5 meter span | 7 days |
| 3 | for Sides of slab above 4.5 meter span | 14 days |
| 4 | for Side of beams and arches up to 6 meter span | 14 days |
| 5 | for Side of beams between 6 meter to 9 meter span | 21 days |
| 6 | for Side of beams and arches above 9 met | 28 days |
---
Load Types on Beam: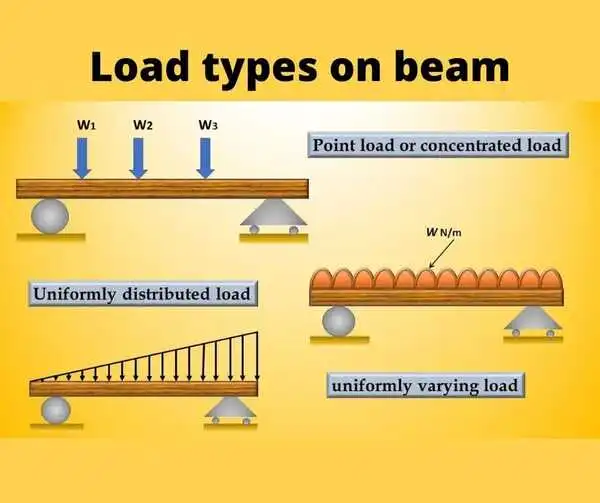 ---
Thumb Rule for Steel in RCC: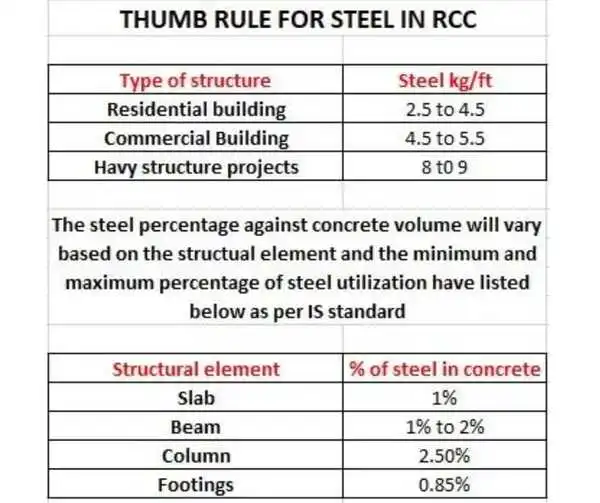 ---
Conclusion:
In conclusion, the field of civil engineering is difficult and complex, requiring a wide variety of abilities. The topics we covered in this article are just a few of the basic and practical knowledge of civil engineering that every engineer should be familiar with. Engineers can create an infrastructure that is secure, effective, and sustainable by mastering these ideas and putting our communities' needs first.
---
OTHER POSTS:
---
FAQ's:
---
Civil Engineering Basic and Practical Knowledge:
Concrete shouldn't be thrown from a height of more than one meter.
For concrete mix, sand with a moisture content of at least 5% should be used.
For every 30 cm3 of concrete used, a cube test is conducted.
Ready-mix concrete, which is manufactured in a factory and delivered to the construction site, is used when there is insufficient room for mixing concrete and when a large volume of concrete is needed for a project.
Hardened concrete develops cracks or honeycomb as a result of adding more water to the concrete mix to speed up setting.
DPC must have a minimum thickness of 2.5 cm.
Concrete's impermeability is the type of concrete that is impermeable to water or moisture.
Concrete pumps can lift the concrete up to a maximum of 50 meters. The RCC cure time is 25 days.
Concrete and steel both have thermal expansion coefficients with a value of 12X10-6/Degree C.
Typically, M20-grade concrete is used to build the slab.
What are the primary Responsibilities of a Civil Engineer?
Civil engineers are responsible for planning, designing, and supervising the construction of various infrastructure projects. They assess the site's conditions, carry out feasibility studies, create design plans, compute structural loads, monitor construction activities, guarantee that regulations are followed, and evaluate the structures' long-term performance and durability.
What Civil Engineering skills or Basic Knowledge are required to become a successful engineer?
A combination of technical, analytical, and communication skills are required for civil engineers. Success in this field depends on having strong mathematical and problem-solving skills, mastery of computer-aided design (CAD) software, familiarity with engineering concepts and building materials, an eye for detail, and effective communication abilities. Other valuable traits include the capacity for teamwork and project management.
What are some common construction materials used in civil engineering?
Concrete, steel, wood, masonry, asphalt, and various composites are typical building materials. Steel is used for structural support in buildings and bridges, whereas concrete is used extensively in construction due to its strength and adaptability. In addition to masonry materials like bricks and stones being used for walls and facades, wood is frequently used in residential construction.
What is the importance of surveying in civil engineering?
A key component of civil engineering is surveying. Collecting information for planning and building infrastructure projects involves measuring and mapping land and other physical features. Establishing property lines, figuring out elevation and topography, planning construction layouts, and ensuring that structures are placed precisely are all made easier by surveying.