Things to Check Before Column Concreting | Concrete Pouring in Column | Concrete Construction | Construction Process of RCC Column:
In this article we will discuss about Things To Check Before Column Concreting | Concrete Pouring in Column | Concrete Construction | Construction Process of RCC Column | Structural Works.
Concreting of any structural element of R.C.C. framed building is very important and crucial for achieving the desired life and durability of any building. Being done on the site it needs special and extra precautions as you have to practically establish 'factory like' controlled concreting on site. this is more important for developing country like India and Asian Countries where technology is developing and availability of the skilled labor force in scare with respect to demand. General practice is to check when the column element is ready for concreting i.e. reinforcement entirely tied up but ideal practice would be to check it in two phase.
Check Formwork:
Before you allow placing of reinforcement, thoroughly check the formwork. This step is mandatory as certain formwork defects can't be corrected or are difficult to correct after reinforcement is placed in position.
Checking reinforcement: Things to Check Before Column Concreting
The second stage is to check reinforcement of column. Hence as a standard engineering practice, one should check the formwork before reinforcement gets placed/laid or tied. Structural Works
OTHER POSTS:
1. Shuttering/Formwork:
Check the size of shuttering for the column, which should be as per drawing.
Check centre lines of columns with respect to adjacent columns and margin etc.
The column shuttering should be strong enough to take the pressure of fresh concrete and remain in position during concreting, particularly when the vibrator is applied.
To hold the concrete shuttering firmly in place with proper alignment, the concrete pad called "kicker" should be cast before fixing the shuttering and of the same concrete mix.
The starter should be hard enough to fix shuttering around it.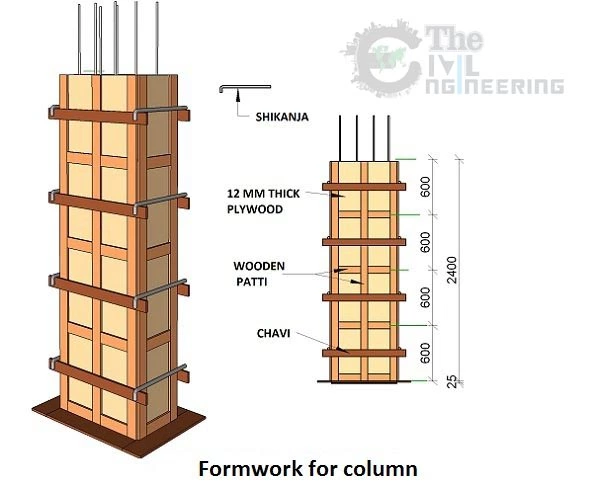 Column box or shuttering for column is made of plywood sheets or steel sheets fabricated with adequate battens and stiffeners.
A thin film of oil or grease or mould release agent should be applied to the inner surfaces of the shuttering to enable easy removal of column after the concrete gets hardened. The same type of mould release agent should be used throughout on similar shuttering materials.
Shuttering should be properly aligned to its verticality and diagonal should be checked to ensure accuracy of dimensions.
The column should be acceptably accurate in shape and position with good alignment to other adjacent columns, walls etc. and it should be as per predetermined grid.
Plumb formwork both ways and securely support using adjustable steel props.
Check the plumb of column by using plumb bob.
Ensure the steel props are safely secured to the column formwork and the floor, and that adjustment for pushing and pulling is operational.
The propping angle should be 45 ° to the floor.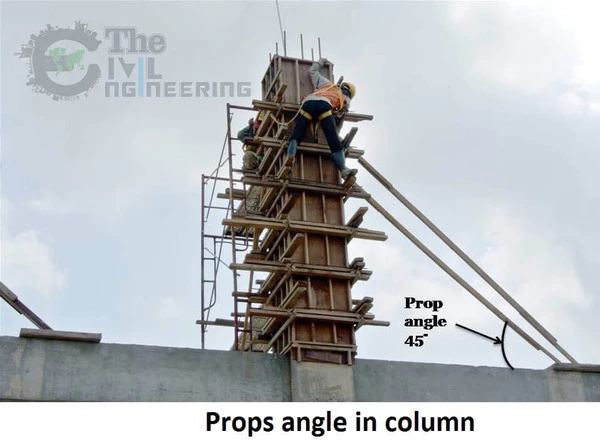 It should be thoroughly supported to props or ties before pouring the concrete so that it does not move horizontally or vertically during concreting.
Sufficient quantity of clamps (shikanjas) should be fixed to prevent bulging of the column during concreting. It should be fixed at a 0.60m (2'0″) interval. Sometimes contractors use binding wire in place of shikanjas, but in large size of columns, they are not effective, and hence not recommended.
Check the size of column as per drawing.

Structural Works

The gap between the shutters joint should be sealed to prevent any leakage of cement slurry.
Appropriate space to be provided between the inner face of the shutter and reinforcement by fixing cover block.
Make sure that cover block used for casting of column have the same grade as of concrete. They are not broken and properly positioned and should not get disturbed during concreting operations.
Minimum 40 mm cover should be provided in column.
Permissible concreting level should be marked by considering beam depth.
A hole is usually provided at the bottom of formwork to remove debris, etc., before placing the concrete. This clean out hole is covered before starting the concreting work.
In case of tall forms, it is desirable to provide windows at appropriate level on at least one face to facilitate inspection, concrete placement and vibration.
2. Reinforcement:
The reinforcement steel should be free of any loose scale, rust, mud, or oil particularly when oil applied on formwork.
Main reinforcement and stirrups of column should be cut as per required length.
The stirrups should be carefully cut in length as extra length will result in large size of stirrups/ rings resulting in less cover to concrete.
When a column terminates into a footing or mat, special confining reinforcement should be extend at least 300 mm or as per drawing into the footing or mat.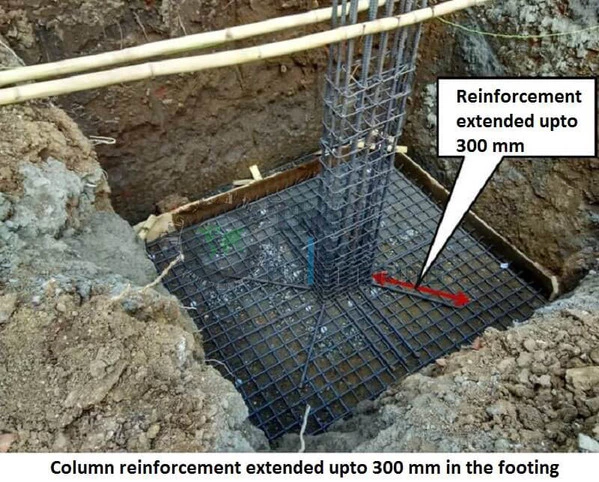 In a reinforced column, the area of longitudinal reinforcement shall not less than 0.8 percent or more than 6 percent of the gross cross sectional area of the column as per IS code.
A minimum number of 4 bars shall be provided in a square or rectangular column and six bars in circular column with helical reinforcement.
The bars shall not be less than 12 mm in diameter and spacing of the bars along the periphery of the column shall not exceed 300 mm.
Longitudinal bars shall not spaced more than 75 mm on either side , transverse reinforcement need only to go round corner and alternate bars for the purpose of providing effective support.
The diameter of the stirrups or ties shall be not less than one- fourth of the diameter of the largest longitudinal bar and in no case less than 6 mm. However we recommended 8 mm diameter bars,
Main reinforcing bars and stirrups should be tied tightly to each other by using binding wire of proper gauge.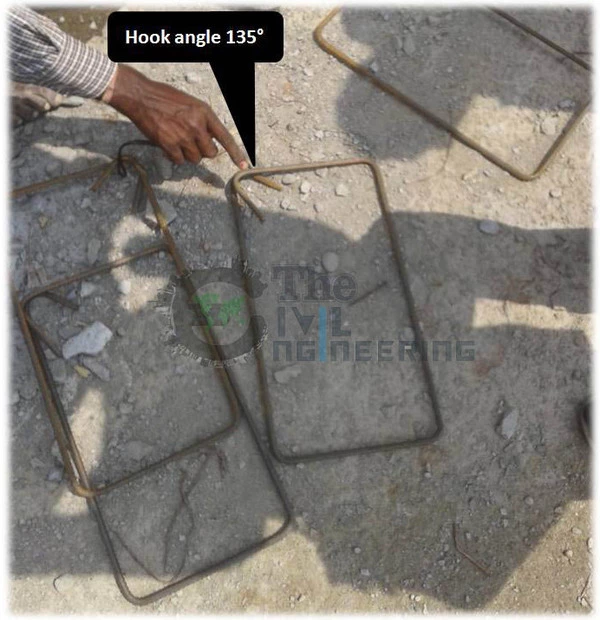 Check the size of stirrups before tying. Hook angle in link or stirrups should be 135°.This is very important from seismic considerations.
Lapping should be provided in the central half of the member length and lap length should be 45D (D is the diameter of the bar)
Lapping should be in joggle if diameter of bar is more than 12 mm.
Spacing near support should be less than middle portion of column.
Before placing the concrete, Check the reinforcement details with bar bending schedule and get an approval from structural consultant.
Conclusion:
Full article on Things To Be Check Before Column Concreting | Concrete Pouring in Column | Concrete Construction | Construction Process of RCC Column | Structural Works. Thank you for the full reading of this article in "The Civil Engineering" platform in English. If you find this post helpful, then help others by sharing it on social media. If you have any question regarding article please tell me in comments.